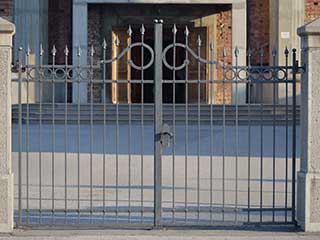 Gate Repair Prosper provides cheap and reliable professional driveway gate repair services. If you're anywhere near this part of the Fort Worth-Dallas municipal area, you've got us to call on for any and all gate services. From driveway gate automation (via the installation of an opener) to emergency troubleshooting and part replacement. Any service you need is delivered for cheap and to your complete satisfaction. As a local automatic gate company with over a decade of experience, we can handle all service requests.
Reliable Gate Repair Services
Gate Repair Prosper strives to deliver superior quality workmanship when it comes to repairs involving wood or iron gates. The same goes for automatic gate opener repair and installation services, or any other part of the system. This means that we focus on more than just the panels and frame. We also troubleshoot openers, fully automatic systems and even intercoms. If you already have a driveway gate at home that's showing signs of wear and tear leave the problems to us. Letting pros handle problems with your automatic gate is always a good idea. There are all sorts of potential issues that could become serious malfunctions if mishandled. A misaligned or sagging gate, for example, we can reinforce with struts, cables or brackets. This will bring about the strength and stability required to keep the gate straight and rigid.
A Local Automatic Driveway Gate Company
Over a decade of servicing the Fort Worth and Dallas area has made us capable of expertly handling all sorts of driveway and security gate problems. Most gates can suffer from material-specific common issues. For wood gates those are often rot and warping. That's why regular repainting is recommended. For iron gates, rust is the major hindrance you'll have to deal with. These common problems can create secondary issues like a partial breakdown of structural components, leading to loss of gate function.
When Automatic Gate Systems Break Down
If your driveway gate isn't moving or working correctly, you'll want to let us know. The Gate Repair Prosper team knows the right techniques and has the right, high quality replacement gate parts for eroded or rotten pieces. If the damage is too extensive, we're also equipped to provide you with a replacement for the entire door panels and their corresponding components. This includes gate hinges, locks and latches. And of course, new automatic gate openers as well.
Common Gate Hinges Problems
Hinges are constantly under physical stress with swing gates. That's why they are likely to be the ones that give out first. Your gate hinges may break due to sudden shearing forces, fall out of rotten posts or even disintegrate due to rust. With iron gates, the need for regular maintenance is constant. The enemy, i.e. moisture, is everywhere, so the hinges need regular lubrication. Whatever the cause, Gate Repair Prosper can reinforce your hinges to make them stronger. Either that, or we can replace them with newer and more durable ones.
Automatic Gate Installation & More
The professional services that Gate Repair Prosper provides consist of more than emergency fixes. We also perform driveway gate installation, as well as replace posts, hinges, automatic sensors. We even install or replace gate intercoms. You have the choice between wooden or metallic driveway gate materials for your new system. We can customize it to meet your exact needs and wishes. You can even work with both materials if you prefer to have it that way. If you already have a manual gate and you want to upgrade it, that's another available service avenue. Driveway gate automation is another one of our specialties. Consult with our experts to find an automatic gate opener that offers the exact features you want for your property.
Gate Experts Near You
The Gate Repair Prosper team is here to provide for any and all gate-related needs you have. Whether you're looking for same day troubleshooting for an unexpected problem, or to consult with our automatic gate installation experts. Someone is always available to provide the cheap and reliable service you need.