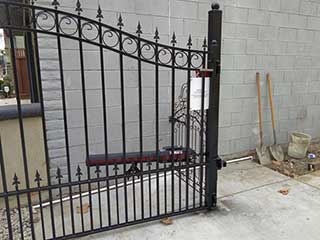 Are you thinking about getting an electric gate installed? There are a lot of benefits this type of system can offer. This is apart from providing excellent driveway gate automation functionality with remotes, sensors, and electric openers. Automatic electric gates also enable you to have intercom devices wired in. You can then use these intercoms to communicate with visitors. You can also use them to then let those visitors in, once you verified their identity. Sounds awesome? We certainly think so. But first, you'll likely want to take a few things into consideration.
What is The Degree of Incline?

You should try to avoid installing an automatic gate on an ascending slope. This will put more strain on the gate motor and other hardware parts. If there is no flat space to install your driveway gate on, you may require a more powerful opener. An even surface is an optimal area to install an electric gate on. You'll want the system to have to deal with the least amount of resistance possible.

How Much Wind Is There In Your Area?

Many people underestimate the power of the wind. It is incredibly important to pick a new electric gate that suits your environment. For high wind areas, we'd recommend open railing iron frames over closed board wooden ones. Although wooden driveway gates are incredibly popular and aesthetically pleasing, iron gates are heavier. That means they'll withstand high window velocities much better. With wrought iron gates, you've got all sorts of ornate and elegant frame options. So choosing iron over wood as your main driveway gate material doesn't mean compromising on curb appeal.

Who Will Access Your Property?

A purely remote controlled gate entry system is seldom a good solution on its own. Postmen, visitors and other people can have issues accessing your property. An electric gate with a remote control is great for security. But if you need to let people in when you're away, you'll need a little something extra. This problem is easily solved by an intercom system, video facial recognition or a time-framed opening and closing timer. Many modern electric gate intercoms utilize Wi-Fi technology. That means you can communicate with visitors and control your automatic gate using your smartphone.

Does Your Electric Gate Also Work Manually?

If your current electric gate doesn't work manually, before upgrading it, take care of that issue first. Most automatic gates have an emergency brake mechanism and a manual-mode switch. But not all. Especially older ones. So if you're planning to upgrade your gate opener, make sure you'll have the option to switch to manual mode when you need to.

What Level of Security Do You want?

A common reason for electric residential gate installation is to increase security around your home. It's important to let the professional installer know if this is a priority for you. If you want better security for your automatic driveway gate, additional locks can be added to secure the mechanisms. If you're really serious, retractable posts in front or behind your entryway will add a whole new level of security. A lot of modern Automatic gate opener models come with enhanced security features. Consult with Gate Repair Prosper on the available models to find one that suits your needs perfectly.
Electric Gate Installers Near You
Those were our top five topics to think about when it comes to automatic gate systems. Whether you know you want to get one or you're looking for more answers and info, feel free to give us a call. Gate Repair Prosper services the entire Dallas-Fort Worth area. We'll happily provide any info you need regarding electric gates and openers, including installation services.