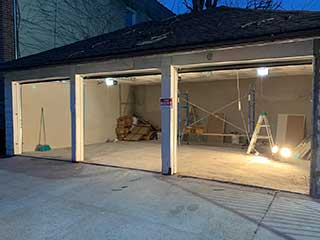 Much like driveway gates, automatic garage doors can be difficult to fix. There are a number of issues that can cause these systems to malfunction. In order to stay safe, we always recommend seeking out the help of a professional technician when something goes wrong. The service team at Gate Repair Prosper also specializes in garage door opener and spring repair services. If you're in need of urgent help or want to ask us a question, be sure to call.
Stay Clear of Damaged Springs
There are two types of garage door springs which are typically used today. They are extension and torsion springs, used for lifting and lowering garage doors. Regardless of the kind of springs your garage door uses, both of these types carry certain dangers. Garage door springs experience extreme tension each time your door moves. Because of this, it can be dangerous to get near the springs while your door is in use. Furthermore, trying to fix damaged or snapped garage door springs on your own can result in injury or further damage. Gate Repair Prosper advises that any necessary replacement procedure is carried out by an experienced technician. Broken garage door spring repair does not belong in the DIY category. If you need help with broken springs, simply let us know.
Garage Door Opener Problems
Like any electronic device, your automatic garage door opener can experience various troubles. It can be tricky to determine the cause of a malfunction. From faulty wiring to misaligned safety sensors, it may seem like there is no limit to opener-related complications. Thankfully, the technicians at Gate Repair Prosper know how to handle even the most intricate repairs. When it comes to issues in which the garage door opener is not working, leave the troubleshooting to experts. If you need a new remote, wall switch or car clicker, we can help with that as well. Get in touch with us for any garage door opener repair need you have.
Track-Related Issues
If your garage door tracks got damaged, your door may not open or close properly. This kind of damage may also cause your garage door to go off track. If you're dealing with this type of problem, check the condition of the rollers and tracks. Can you see noticeable dents or a blockage? Have experts from Gate Repair Prosper lend you a hand. We'll see to it that your garage door gets back on track and goes back to normal.
New Garage Door Installation
If you're looking to have a new automatic overhead door installed, that's another service option. There are all sorts of modern garage door and opener models available today. It's important you choose something that matches your needs and budget. Whether it's a wooden garage door with classic curb appeal benefits or strong steel door panels you're after, you'll want to consult with an expert first. Get a free estimate on new garage doors from the Gate Repair Prosper team. Let us help ensure you get the best bang for your buck, without paying too much either.
Same Day Service
So, your garage door isn't opening, eh? Or does it refuse to close? Whatever the case, know that the solution is a phone call away. Contact Gate Repair Prosper for any type of garage door service you need.