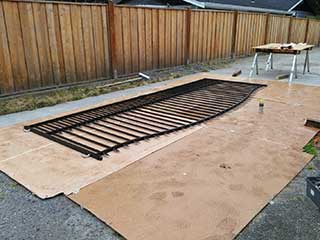 Front yard and driveway gates can be made from a wide range of materials. The choice often depends on the level of security and curb appeal the property owner wants. Let's take a look at several of the most popular and common driveway gate materials and go over some of their key qualities. If you're currently considering having a new gate installed, this info should prove useful. Find out which material best suits your needs by learning more about each option. Remember, for a gate installation to last you'll want to cover all your bases from the start.
Wrought Iron Gate Installation
This type of gate is robust and possesses a charming aesthetic. Wrought iron lasts a very long time as it is anti-corrosive. With just a little bit of care, gates made from this type of metal can keep their condition for centuries. It is for this reason quality wrought iron gates are typically pricier than other options. Their value and quality make them highly sought after.
Steel and Aluminum Gates
Metal driveway gates have a wide range of options to choose from. Steel and aluminum are mass produced. That makes them relatively cheaper compared to rarer materials like wrought iron. Both steel and aluminum can be rolled thin. This provides a light yet robust sheet of affordable metal. This makes them these metal gates good choices if you think you might consider installing gate openers to have your driveway gate automated. The light weight of aluminum will make it easier to find an appropriate gate opener model. The heavier the material, the stronger the opener will have to be. Steel is heavier, so a metal driveway gate made of steel will require a stronger opener. That means a more expensive model.
Installing Wooden Gates
Wooden driveway gates are popular for their warm aesthetic and natural feel. Their classic curb appeal serves to give them a rustic charm. When you install a wooden gate you have to accept the extra maintenance involved with this natural material. A wooden gate will be more susceptible to rotting and decay. That means it needs regular protection, which you'll provide by painting it with a water-resistant coating. Remember, the larger the gate, the stronger and heavier it is. If you want an automatic wooden gate, you'll have to consider its dimensions and overall weight carefully. You've got all sorts of gate openers capable of supporting heavy loads. But those tend to cost more, so take that into account.
Professional Gate Installers Near Prosper, TX
Your new driveway gate can come in various shapes and materials. Installing this type of system can demand a lot of experience and expertise. Luckily, Gate Repair Prosper provides consultations on this type of service. You'll want to pick an expert's brain before choosing your new driveway gate. Deciding which materials you should choose can take some thinking. You'll likely want to know the pros and cons of each to make an educated decision. After the thinking is done, there's the gate installation process. This is something you should leave to the experts. Gate Repair Prosper specializes in this type of service. Your new driveway gate will open and close flawlessly once our technicians finish setting it up. Call us to get an estimate on a new driveway gate or a system for your commercial property.
Count on us when it comes to:
Gate Exit Sensor Installation
Parking Garage Gates
Aiphone Gate Intercoms
Linear Gate Intercoms