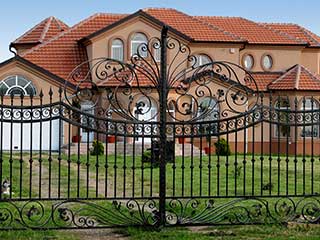 When things aren't right with your iron gate, the last thing you want to do is call several repair companies for the job. Unfortunately, you often don't have a choice. Some companies can replace iron gate hinges for you, but can't, or won't, do any welding repairs. When you call Gate Repair Prosper you can be sure you have the right person for the job. Our technicians are highly skilled and can take care of any repair needs you have for your iron gate. We only use the best quality parts to ensure your gate will look as good as new again.
Iron Driveway Gate Repairs
Getting in and out of your property is an everyday activity we often take for granted. You only realize how important this is when your iron driveway gate isn't working properly. An iron gate that isn't functioning properly is a health and safety hazard. You need to be able to open your gate, especially if you return home late at night. You also want to secure your front yard to make it a safe place for young children to play. Our experts will come to your home promptly and have your iron gate repaired, giving you time to enjoy life again.
Quality Work All The Way
When you need your iron driveway gate repaired, excellent service is crucial, but it's only part of the job. The other part is using the best quality replacement parts money can buy. We only use the best quality parts to repair your gate, giving you 100% surety that the job has been done correctly. This same principle applies to iron gate installations. Investing in a gate and fence made of iron can take a sizable chunk out of your budget, even with our competitive prices, so it's important to our customers that we don't take short cuts or use inferior materials. Make sure your iron gate is at its best with quality workmanship using quality materials.
Decorative Iron Gates For A Stylish Look
Give visitors to your home a vision of grandeur as they enter your grounds with decorative iron gates that ooze elegance and style. We have a considerable range of beautifully designed driveway gates that will provide the perfect touch to your home. Complete the look with iron fences to match. Choose from our intricate range of iron gate bars and fences to enclose your entire yard for added safety. We can also work with you to create a custom iron gate if you're looking for something a little different.
The Best Iron Gate Repair And Installation Near You
Good service standards must offer the customer several practical solutions. Regardless of whether you need repairs on your driveway gate, or to have one installed, we have a solution for every service request. Call us for the best iron gate repair service around Prosper. Or, if you're looking for a new setup, arrange for one of our designers to come to your home or business to help you choose the best iron gate for your driveway.