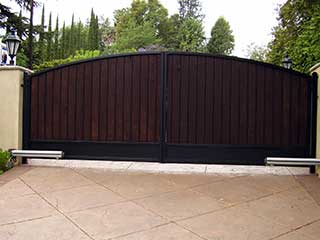 The way your driveway gate looks and works makes a good or bad first impression on visitors. That means you probably want this impression to be a good one. Well, a gate that looks neglected and moves shakily or makes a lot of noise won't do that. A system that gets stuck halfway will certainly leave a bad impression, regardless of how good or bad it looks. When problems arise, fixing them quickly is important, to minimize disruption to your daily routine. Gate Repair Prosper is here to deliver emergency repair solutions for any and all problems that may inflict your system.
The Swing Gate Struggles To Close
A problem of this sort often occurs because of an issue with the hinges. Unlike sliding driveway gates, swinging-type systems don't have a track to guide their movement, but a set of hinges. These components can rust or warp and will require repairs or replacement at a certain point. If you neglect to grease them on a regular basis, they'll be more likely to grind and squeak when the driveway gate is in motion, creating an unpleasant disturbance every time you open or close it. If your Prosper property has a swinging driveway gate and you need help with it, go ahead and let us know.
Sliding Driveway Gate Got Stuck
Unlike its swinging counterpart, a sliding gate system uses wheels and a track to guide it's back and forth movement. When something blocks that track (usually an accumulation of debris) the panels/frame will have a hard time getting past a certain point. Of course, bent track sections will also result in such a scenario where the gate doesn't open all the way. Repairs will involve straightening the bent sections and ensuring that the wheels can move inside them smoothly. Sometimes, albeit on rarer occasions, the automatic driveway gate sensors can be responsible for a gate that won't fully open or close. Whatever the case, you're better off letting one of our Prosper-based experts check and fix the problem rather than attempting any DIY repairs.
Electric Opener Problems
Whether you own a sliding or a swinging automatic gate, odds are the system uses an electric opener to power its movement. This device is very useful and can make your daily life a lot more convenient. That is, until it malfunctions. All sorts of potential issues can crop up, especially the older the model gets. Circuit boards and motor gears are the common culprits, but far from the only ones. For example, an articulated arm could get damaged, and chain drive units can break. Regardless of what type of opener your driveway gate uses, you can rest assured that our technicians will have no trouble fixing it.
Driveway Gate Installation
The best way to secure a property is with a driveway gate and fences. Control the comings and goings of folks will allow you to determine exactly who gets onto your land. Naturally, you'll want your driveway gate to be strong and durable, but to add something to the landscape too. Well, these two attributes are easy to combine. With wooden driveway gates, you can get the rustic charm of a farmhouse with durable and even steel-reinforced interior. Maybe you want something more prestigious, at which point an iron driveway gate can more than serve. Wrought iron frames can have elaborate and ornate designs that really bring a lot of elegance to the property.
Knowing Which Driveway Gate Is Best
The right gate for you may not be the right one for your neighbor. Well, most likely it will be, but let's humor this notion for a minute. When comparing tastes, then every person will likely have a preference. Some like sliding steel gates for their fortress-like appearance, others prefer swinging wood doors for the classic appeal and charm. But you must also take your surroundings into consideration before choosing a new driveway gate. Is there a slope where you want to put the gate? Does the area have a lot of moisture during certain times each year? These are factors that can determine which type of driveway gate will work best for your Prosper property. Of course, these answers you won't have to figure out alone.
Driveway Gate Experts Nearby
Call Gate Repair Prosper and help will get to you on that same day. We cover a wide service area all around us and near Fort Worth and Dallas. Our service team can assist every local driveway gate owner with any mechanical or electrical problem. Get in touch with us as soon as you discover an issue. Alternatively, call us for a quote if you want to have a new driveway installed.