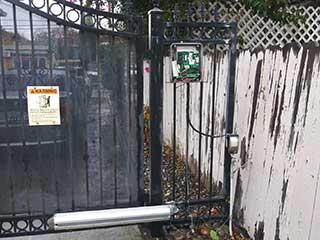 When it comes to complicated machinery, you'll want to have professionals to handle the installation. Gate openers are no exception. Apart from the initial setup for the electric opener, there are the hardware parts. You need to ensure the operator connects to the driveway gate correctly. It's crucial that everything the installation leaves no minor issues to present major problems later on. Of course, gate opener problems can occur due to a range of issues. That means that you may come to need some expert repairs at one point in time. Here are a few of the many different opener issues Gate Repair Prosper can assist you with.
Opener Sensors Alignment
All modern gate openers will feature sensors that prevent the driveway gate from hitting objects in its path. These sensors are crucial and inherently sensitive. They must be aligned perfectly to work effectively. If installed incorrectly, misaligned gate openers can cause a range of issues. If the gate isn't closing or starts to open and stops, you may have a sensor issue. One of the leading causes of automatic gate problems involve the sensors. Due to the delicate nature of these components, unless it's a minor adjustment, you'll want to let an expert from Gate Repair Prosper handle the troubleshooting.
Swing Gate Alignment
This can be another very sensitive obstacle. If you plan to fit an opener to a swing gate, the gate itself must be perfectly balanced and suitable for the equipment you purchase. If the motor and drive of the opener have to work too hard, they can damage more quickly. This leads to more frequent gate repairs. Sliding gates use different openers than swing-type systems. The different movement demands it. Your swing gate needs to open and close inwards or outwards, as opposed to moving laterally. That means having an articulated arm or some special hinges to help it move. But even with a gate opener installed, misalignment of the leaves will create troubles. Nothing our team can't handle, of course. But you'll likely want to avoid as many problems as possible.
Installing a New Gate Opener
There's plenty to consider before choosing an automatic opener for your driveway gate. Apart from calculating the correct horsepower output, you'll also want to think about other features. Above ground/underground, for example. And also remote control options. Wi-Fi compatibility can allow you to use your smartphone to control your driveway gate. And let's not forget that many modern gate openers come with special security features as well. By consulting with the experts from Gate Repair Prosper, you'll have an easy time finding the best opener for your system. After you make a decision, the experts will carry out the gate opener installation. Your driveway gate will turn automatic before you know it.
Professional Gate Opener Services
Gate Repair Prosper provides a plethora of opener-related services. These include same-day repairs for gate openers that aren't working or experience electrical malfunctions. Our services also cover new opener installation for driveway gates of all types. Servicing all cities near Prosper, TX and the Dallas-Fort Worth area means any gate owner in the vicinity can turn to us for assistance. Give us a call for any gate opener service needs you have.
We also take care of:

Liftmaster Gate Opener

Gate Opener Keypads

Electric Gate Service

BSL Gate Opener